Bring your favorite Moose Peterson book and get it autographed at MAPSym!
It is not hard to find a book by Moose Peterson. Chances are, if you have a few books about photography at least one of them may be by Moose. He is author of 28 books including his best seller Captured.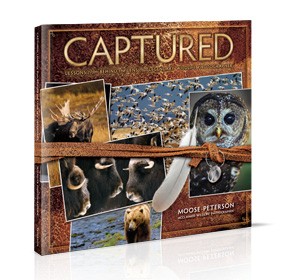 Don't have a book by Moose? Consider purchasing Captured to bring with you to MAPSym. Captured highlights 30 years of his life behind the camera and what it taught him about himself, photography, and wildlife. In Captured Moose talks about his favorite subjects: the importance of understanding the biology of the subject; treating the light as a subject; capturing the image correctly in the camera rather than leaving it for post processing; and the need to protect the environment.
Captured is not about being a "legend" or having the best photos (because that's not what I'm about), it's about being the best one can be and then making a difference in the world with what that produces.  – Moose Peterson